ECIM 2019 - 16th. to 18th. September in Haugesund
'Digital Transformation - from Vision to Reality'
How to get to Haugesund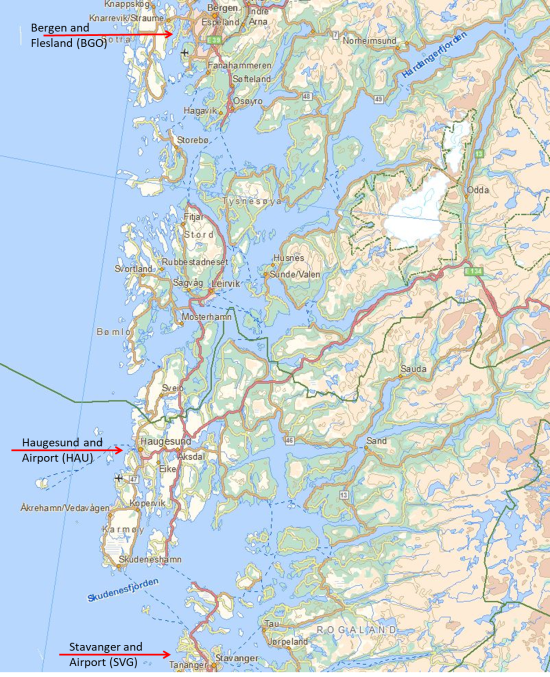 Haugesund Airport is located 15 minutes by taxi from / to the conference hotel. The airport has good connections to and from from Oslo (sas.no, wideroe.no and Norwegian.no). Link to Haugesund Airport web-pages: https://flyhau.no/en/
Stavanger Airport Sola has very good connections to the major cities in Europe; Amsterdam (KLM), London (British Airways, SAS, Norwegian), Aberdeen (Wideroe and SAS), Copenhagen (SAS) etc.
An airport shuttle bus, Flybussen, has departure to Stavanger every 17 minutes. The bus stops at the 'Stavanger Sentrum Byterminal' and here also the Norway Kystbussen bus to Haugesund departs from.
You may also want to check the airports to see arrivals and departures to find out what options are available. Link to Stavanger Airport (SVG): https://avinor.no/en/airport/stavanger-airport/
Travel by bus from 'Stavanger Sentrum Byterminalen' or 'Bergen Busstasjon' to Haugesund
The buses have departure to Haugesund almost every hour from both Stavanger and Bergen. The trip by bus takes around 2 hours from Stavanger and 3 hours and 15 minutes from Bergen to Haugesund. Link to routetables and journey plannner for Kystbussen (Nor-Way Bussexpress): https://kystbussen.no/default.aspx?lang=en
It may be the most effective and flexible to travel via Stavanger to Haugesund, unless you find a good flight connection via Oslo (OSL) to Haugesund Airport (HAU).
From Stavanger Airport to Stavanger Sentrum Byterminalen:
Flybussen takes you from Stavanger Airport to Stavanger Sentrum Byterminalen. The trip takes 25 minutes and has departure approx every 17 minutes. The ticket price one way and return is approx. EUR 20. Credit card is accepted as payment.
From Stavanger Sentrum Byterminalen to Haugesund Buss Terminal:
Kystbussen takes you to and from Haugesund and Stavanger and has departure almost every hour.
The bus trip takes approx 130 minutes inclusive a ferry. When you make a search for a journey with Kystbussen from Stavanger to Haugesund, then use arrival and destination from and to; 'Stavanger Sentrum Byterminalen' and 'Haugesund Bussterminal'.