ECIM 2019 - 16th. to 18th. September in Haugesund

'Digital Transformation - from Vision to Reality'
Inquiry for Sponsorship and Exhibition Space
Companies are invited to inquire for sponsorship and profiling position for ECIM 2019. This include exhibition space and company profile (text and logo) on the ECIM conference web-site. The exhibition area is located next to the main conference hall used for plenary sessions and conference dinner.
Click PDF map to enlarge (booth sizes and locations may be adjusted)
The following types of Booth Boxes and 'floorspaces' are available (All prices are ex. VAT.):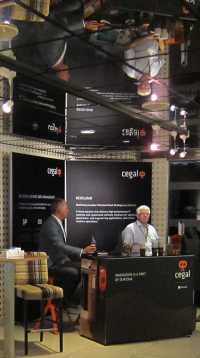 1. Booth box with white walls (Yellow Sections on map)
- Regular sized 1,8 m x 1,0 m - EUR 1.000,-
- Extended size 2,8 m x 1,0 m - EUR 2.000,-
2. Floor Space for own 'set-up' (Red Sections on map)
- Regular Exhibition Space (footprint) 2,4 m x 1,5 m - EUR 2.500,-
- Extended Exhibition Space (footprint) 3,0 m x 2,0 m - EUR 3.000,-
Both alternatives include standard 'hotel' table and two chairs.
Exhibitor Sponsorship includes:
- Company profile and introduction on conference web-pages
- Access to shared meeting room on request
- Logo on the conference pages right column
Event sponsorship - We invite for event sponsorship. Please contact us for more details.
Download Sponsorship and Exhibition Application Form

Click for download: Exhibit 2019 Inquiry Form (Word document).
Please make your preferences and submit to ECIM. Exhibition are is already starting to fill up. .
For further information please call (+47) 91615866 or send email to rbk@ecim.no.