ECIM 2021 - 13th. to 15th. September in Haugesund

'E&P in Transformation - The Value of Data Management'
Program Committee

Sun Marie Lehmann (Committee Chair), Equinor
Sun is working in Equinor as an Leading Engineer within Enterprise Data Management (since 2017). She holds 3 years of Data Management experience from the Norwegian Hydrographic office and 7 years drilling services experience prior to Data Management positions for Statoil since 2008. This includes advisory positions since 2011 and member in the Blue Book Work Group and Diskos Well Committee. In the current position in Enterprise DM team Sun is working on shaping and establishing data enablers for Equinor's digital transformation. Sun holds an M.Sc. in Petroleum GeoScience from NTNU in 1998.
Sun

Lars Gåseby, Shell
Lars is working in Shell as Technical Data Management Advisor in Shells global technology organization. He has been working in the industry since 1989 in Schlumberger, ConocoPhillips and Shell. His current focus is how to automate data management processes and supporting digitalization initiatives. He is board member of ECIM and the Society for Petroleum Data Managers (www.societypdm.com). He has a M.Sc. from UiO.
Lars
Branka Barisic, Equinor
Branka is a principal professional within geomatics with a focus on geospatial integrity and co-ordinate reference systems. She has worked in Equinor since 2011, focusing on seismic navigation QC and geodetic advisory, as well as GIS support.
Before the Norwegian adventure, Branka worked for a number of years in Croatia, as land surveyor, redactor of nautical charts for the national Hydrographic Institute, and advisor in the State Geodetic Administration.
Since 2019 she has been the Equinor representative in IOGP Geomatics Committee (International Association of Oil & Gas Producers). Branka holds a master's degree in geodesy and geoinformatics from University of Zagreb, Croatia.
Branka
Els van Wenum, Lundin Norway
Els is Exploration Data Manager and leading the Data Management team in Lundin.
She has a MSc in Geology (mineralogy) from university in Amsterdam.
Els has worked in Europe, Africa and Middle East and moved to Norway in 1997. In Norway she has worked for Total Norge, Idemitsu, Schlumberger and since 2005 for Lundin. In Lundin she is also part of the cross-disciplinary digitalization group.
From 2015 she has been a member of Diskos Steering Group.
Els

Pierrick Gaudin, Total S.A.
After an M.Sc in Digital Geosciences (Nancy-2005) and 8 years in CGG first as a Geophysicist then as a Software Architect, Pierrick is now working as a Data Architect in Total to build an Enterprise Data Model. This project is based on retrieving and gathering of all the Logical Data Models involved in the Company and consolidating them in a unified vision. Acting as a gateway between Business and IT, and faced with firmly entrenched silos, he contributed to set up, and now leads, a cross-entities team that aims to set up and implement the Data Governance Program.
Pierrick

Elin Aabø, NPD
Elin is the deputy Manager of the Diskos Joint Venture for storage of petroleum technical data on the NCS. Elin has worked in the NPD since 2003 in a variety of roles within document management, information management and IT-related projects. From 2011 she has been a part of the Diskos Management Team. Elin has a B. Sc in Library and Information Science.
Elin
Daniel Brown, Common Data Access Limited
Daniel joined CDA in 2014, working with UK Licensees and with the Oil and Gas Authority to implement the new UK legal regime for the retention, reporting, and disclosure of information and physical samples. This culminated in the launch of the UK NDR, operated by CDA, in March 2019. Daniel has been working in data and information since 1998, and in oil and gas since 2004.
Daniel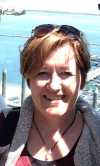 Brit Berg, Halliburton-Landmark
Brit Berg is working in Halliburton-Landmark as the leader of Landmark Services in Norway. She has 25+ years of experience in the Research, IT and oil industry, and with roles as software developer, project manager and service manager. She is a qualified civil engineer having studied Computer Science at the University of Strathclyde (Glasgow).
Brit
Reidar Kalvig, ECIM
Reidar is the chairman and secretary of Stiftelsen ECIM. He has been a part of ECIM since the establishment of the organisation back to 2003. The first conference held by ECIM was in 2004 with focus on 'Value creation and data management'. The same year ECIM got a leading role in the continuation of the User Group meeting in Haugesund that allready had been going on for 8 years at that time. The ECIM Conference is now established as the most important annual E&P IM and Data Management Conference in Europe.
Reidar

Klaus Eder, Schlumberger
Klaus is currently working in Schlumberger as Geoscience Business Owner, based in Austria. Klaus has been working in the industry for nearly 20 years in various technical roles in geophysics & geology in different countries. Klaus holds an M.Eng in Applied Geoscience from the University of Leoben, Austria.
Klaus