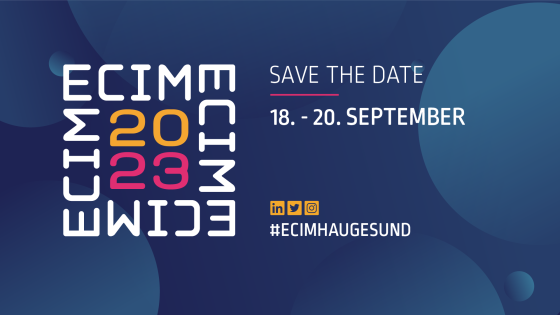 ECIM - Expert Community for Data and Information Management
ECIM, Expert Community for Information Mangement, is a non-profit organisation, established by the industry to promote Data Management / Information Management Profession, Competence and Best Practices within E&P Industry.

IM Education Workgroup
This work Group has focus on establishing a Study Program for IM professionals in cooperations with University of Stavanger. The study Program will represent a possibility for employees working within IM / DM business to formalize their competence. The first module started up early 2008 and second module is starting up early 2009. For further information please study the different documents and projects at this web-site, or you may contact any person in the contactlist.
Annual IM Conference and User Meeting, Haugesund
ECIM is hosting an annual international user meeting and conference, which has become the most important forum and meeting place in Europe for IM professionals. More than 300 participants joined the last conference held in September 2009. The conference is famous for its workshops and "Best Practise" presentations. The conference days are busy, the atmosphere is relaxing at the very nice hotel and conference fascilities in Haugesund, a medium small town located just north of Stavanger.
The conference and workshops are focusing on; Production Data Management, GIS, Enterprise Information Management, Exploration Data Management, Impact of Human Capital and behaviour, and dedicated sessions for vendors and service-companies.
IM Benchmark
One of ECIM's main objective is to establish methodology for measuring the business value from Information Management processes and investments. A significant part of the project is a R&D project performed by the University in Stavanger, and IRIS, to develop optimized Key Performance Indicators involving the interaction between people, information management and technology and business value for the E&P IM processes.
This year conference was held 16-18 september with 322 attendees from 23 countries. The Conference is an annual event, and considered the most important IM and Data Management conference and user meetings in Europe.
ECIM has been looking into alternative providers for an MSc program in Information Management, and has found what we believe to be a good program with Robert Gordon University, based in Aberdeen UK.
A R&D project within benchmarking methodology has been initialized involving University of Stavanger and IRIS. A small group of oil companies has been invited to join the pilot phase of the project (R&D) including a test benchmark process.
The main objective for the Education Work Group is to formalize competence processes and education program for professionals. The leader of the group is Elisabeth Hegle from Winterhall.
ECIM' Calendar
Upcoming Events
The "ECIM 2014" E&P Data and Information Management Conference and User Meeting will be held in Rica Maritim Hotel, starting Monday afternoon September 15th. until Wednesday 17th. early afternoon. See more..
Previous held meetings
25.03.2014: Workshop: E&P Master Data and Meta Data Management
ECIM IM Education held a successful workshop with focus on Master Data Management as a key aspect of E&P Data Management. See more.
---
03.12.2013: Workshop: Interaction between DM and Knowledge Management.
ECIM IME Work Group held a workshop focusing on Knowledge Management from a E&P DM perspective. For more information click here.
16-18.09.2013: ECIM'2013
ECIM 2013 E&P Annual Conference and User Meeting held in Haugesund was again successful with more than 320 attendees from 22 countries. More information is available on our conference pages.
04.06.2013: E&P data Management in the Cloud
ECIM IME Workgroup and Diskos workshop focusing on cloud computing and E&P DM; 'Evolution not revolution', or 'Old wine in new bottles'. Well, some say Cloud Computing has been around for 25 years. Why has this terminology and / or technology not been used more in the oil industry?
10.04.2013: Seismic Data Management Workflows
ECIM IME Workgroup held on april 10th. a workshop focusing on sesmic data management (DM) workflows on April 10th. at the NPD, Stavanger. For more information click here.
29.11.2012: Well data management formats and workflows.
More details of the program here.
10-12.09.2012: ECIM'2012
More information on our conference pages.
12.06.2012: License lifecycle.
Please find more details of the program here.
29.02.2012: ECIM Forum Information Meeting
Experiences and needs for formal education for DM/IM Professionals.
16.06.2011: ECIM Forum Workshop focusing on GIS in a DM perspective.
Tips and suggestions..
Please mail us if you have any tips or suggestions to relevant and interesting topics, speakers, 'Best Practices', activities or projects that you believe would be of interest for the ECIM Network. You may call +47 91615866 or send us an e-mail (post@ecim.no).