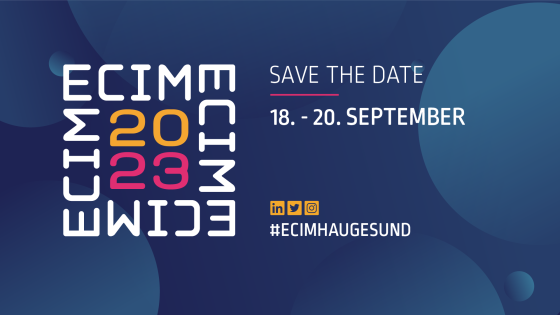 ECIM - The E&P Community for Information Management
ECIM - The E&P Community for Data and Information Management, is a non-profit organisation, organized as a foundation (Stiftelse/Stichting), established by the industry for the industry to promote Data Management and Information Management Profession, Competence and good and best Practice within the E&P Industry.
---
Registration open;
The dates for the ECIM 2015 conference is September 14 - 16. The Opening Session starts on monday evening 19:00 followed by the tradional Ice Breaker with buffet etc. hosted by Schlumberger and Halliburton - Landmark. We are proud to announce that the opening speech this year is by Patrick Reidy, Vice President and General Manager in CSC. Please read more about the program for tuesday and wednesday. We hope for your contribution to make this a successful conference also this year.
(Photo: Lars Gåseby)
CDA and ECIM hosted a workshop in Aberdeen in June 2015, investigating the contribution data managers can make during the current downturn in oil prices. The workshop was fully booked. The workshop proceedings summary is freely available to download, while copies of the presenters' slides are available to attendees only.
The new partnership with AIIM (Association for Information and Image Management), will provide the oil and gas information professionals with access to AIIM training courses covering information management technologies and best practices.
The ECIM 2014 Conference was a success. The feedback from the speakers, attendees and exhibitors was very positive. And the weather was great. Of course everybody was busy joining the sessions until late afternoon during the conference days, but when the program for the day was finished, we could still enjoy a sun and a temperature of 20 degrees celsius outside.
The ECIM'2013 conference was held 16-18 september with 322 attendees from 23 countries.
The Conference is an annual event, and considered the most important IM and Data Management conference and user meetings in Europe.
ECIM has been looking into alternative providers for an MSc program in Information Management, and has found what we believe to be a good program with Robert Gordon University, based in Aberdeen UK.
The 2011 edition of the European Comminuty for Information Management (ECIM) E&P information management conference in Haugesund reached over 320 attendees, making ECIM the largest upstream data conference in Europe. International (non-Norwegian) participants made up 40% of the attendees.
A R&D project within benchmarking methodology has been initialized involving University of Stavanger and IRIS. A small group of oil companies has been invited to join the pilot phase of the project (R&D) including a test benchmark process.
ECIM' Calendar
Upcoming Events
ECIM 2015 Annual E&P IM Conference and Workshop - Haugesund
September 14-16.
Save the dates in your calendar allready now....more
Previous held meetings
30.06.2015: CDA & ECIM Workshop: Data Management in a time of downturn
CDA and ECIM held on June 30th. a Workshop with focus on good data managemen. See more

02.12.14: Christmas Workshop: The Data Management Organization
ECIM Education Work Group held the annual Christmas Workshop on 2nd December at Thon Hotel, Stavanger. The workshop was very successful and had 65 attendees. See more here.
---
14.10.2014: Workshop: Data Management for Producing Fields - New Data and Challenges
The ECIM IME Work Group held on October 14th. a Workshop with focus on production Data Management. See more.
---
15-17.09.2014: ECIM'2014 E&P Data and IM Conference
The "ECIM 2014" E&P Data and Information Management Conference and User Meeting was held in Rica Maritim Hotel, starting Monday afternoon September 15th. until Wednesday 17th. early afternoon. See more..
---
25.03.2014: Workshop: E&P Master Data and Meta Data Management
ECIM IM Education held a successful workshop with focus on Master Data Management as a key aspect of E&P Data Management. See more.
---
03.12.2013: Workshop: Interaction between DM and Knowledge Management.
ECIM IME Work Group held a workshop focusing on Knowledge Management from a E&P DM perspective. For more information click here.
16-18.09.2013: ECIM'2013
ECIM 2013 E&P Annual Conference and User Meeting held in Haugesund was again successful with more than 320 attendees from 22 countries. More information is available on our conference pages.
04.06.2013: E&P data Management in the Cloud
ECIM IME Workgroup and Diskos workshop focusing on cloud computing and E&P DM; 'Evolution not revolution', or 'Old wine in new bottles'. Well, some say Cloud Computing has been around for 25 years. Why has this terminology and / or technology not been used more in the oil industry?
10.04.2013: Seismic Data Management Workflows
ECIM IME Workgroup held on april 10th. a workshop focusing on sesmic data management (DM) workflows on April 10th. at the NPD, Stavanger. For more information click here.
29.11.2012: Well data management formats and workflows.
More details of the program here.
10-12.09.2012: ECIM'2012
More information on our conference pages.
12.06.2012: License lifecycle.
Please find more details of the program here.
29.02.2012: ECIM Forum Information Meeting
Experiences and needs for formal education for DM/IM Professionals.
16.06.2011: ECIM Forum Workshop focusing on GIS in a DM perspective.